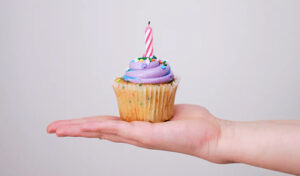 Personalized marketing has opened the doors to a new kind of communication with consumers. Not only are marketers getting to know their consumers' names and preferences, but they're creating experiences best suited for each individual based on their online habits. As we all know, marketers can't do this without, you guessed it, data! However, users are becoming more reluctant to share their personal information with companies, which, as a result, could complicate the way marketers interact with their customers. For the users who do fill out those 30-second surveys and include information such as their birthday and email address, they oftentimes receive a great reward. BIRTHDAY SPECIALS!
Because personalization has been a thing in marketing for years now, sometimes consumers get used to thoughtful subject lines in emails. They might say things like, "OMG A Gift Just for You" or "It's Your Lucky Day!" However, as marketers, we should find ways to set ourselves a part when sending birthday greetings. Whether it's through emails, letters in the mail, through social media, the list goes on… I encourage you to pay attention and take FULL advantage of your audience's birthdays and special occasions. This is coming from someone whose birthday is today! Yes, it's my birthday, and I've already gotten a slew of emails wishing me a happy birthday. And no, not from my family, but from my favorite brands!
Because I'm new to the marketing world, I pay attention to every little thing my favorite companies do now more than ever before. Every email, every campaign, every social media post, and every birthday wish! I'm coming to realize there are so many different ways companies celebrate their consumers on their big day. They do this to ensure loyalty to their brand and keep buyers coming back for more.
Email Marketing
This is probably the most common form of birthday marketing because it is the easiest marketing tactic through automated messaging. These emails also serve as a friendly nudge to the consumers who haven't interacted with a company in a while. I've even got a "happy birthday" message from my local urgent care facility with a call to action button to check out their new facilities. No matter what product or service companies sell, it's always a good idea to send birthday emails to show users you're thinking about them, and in turn, create a positive relationship with them. If you're feeling extra nice, maybe include a small free offer, like the candle from Kirkland's below. I mean, who doesn't love candles? 
Coupons Galore
Whether you send them via email, text, or mail, your coupon could make someone's birthday even more special. Encourage your consumers to spoil themselves with the new scent from Bath & Body Works or the free chips & salsa at Chili's! For the typical buyer, there's nothing wrong with saving a little bit of money!

Charitable Donations
In 2017, Facebook started a fundraising effort to raise money for a pool of over 750,000 non-profit charities around the globe, using users' very own birthdays as attention grabbers for the cause. According to Facebook, around 45 million people grant birthday wishes on their platform a day so they're using this opportunity to make birthdays "more meaningful." Just one year after the movement started, Facebook raised $300 million worth in charitable donations. Start a new trend by encouraging consumers to give back on their big day!
Direct Mail
Yes, I said direct mail. It's still a thing! You won't find special birthday messages in the mail as much as you used to, but businesses do sometimes send coupons and handwritten messages. For example, I receive birthday messages via mail for my fur babies from the vet's office every year and from my local bank for my birthday. These are the little things companies do to remind customers of their loyalty.
Free Desserts
You might hate the Happy Birthday song at restaurants, but I'm sure you love the free desserts! If you love free desserts, I'm sure most everyone loves them! Oftentimes, restaurants offer freebies through rewards systems and loyalty programs that venture outside of just desserts. That's a steal!
So, what you should take away from this is yes, personalized marketing is optimizing experiences for consumers. However, the main takeaway to you as a marketer and consumer, is start filling out your birthdate when companies offer that 30-second survey to you. Brands want your data, but they also want to better serve you as a customer which I'm sure you know all about. Oh, and you might just get 25% off that striped sweater you've been looking at for days.