With the weather getting colder, I just had to rave about my favorite Burt's Bees product – Lemon Butter Cuticle Crème.  It is hands down the best cuticle cream I have ever used.  In fact, I keep it in my desk and apply it at least once daily when I'm chatting on the phone.
It is not greasy or oily and always makes my nails look 10 times better.  Best of all, it is 95% natural (hmm… wonder what the 5% unnatural part is).  According to the packaging it is "A soothing blend of natural ingredients for intensive care of dry, brittle nails and chapped, cracked fingertips."
I promise this product will not disappoint you.  I found mine at my local grocery store.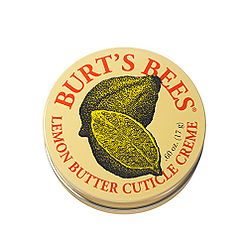 Disclaimer:  I was not paid or given free product by Burt's Bees to write about the cuticle cream.  I simply wanted to share my love for the product!