Just months ago, Tide launched their new breakthrough laundry detergent – Tide Pods.  The pods are laundry detergent packaged in a dissolvable shell.
The pods have two swirls of colorful liquid on one side and then powder detergent on the other. However, the swirls of colorful liquid are not only attracting consumers to purchase the Tide Pods, but also causing children to ingest the product.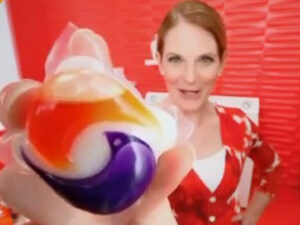 According to the American Association of Poison Control Centers, officials have reported more than 180 children have ingested the Tide Pods and become sick.
A Tide Pod customer myself, the colorful pods is part of what drew me to the product itself.  The container is clear and I can certainly understand why small children are attracted to placing what looks like candy into their mouths.
After seeing the media reports this morning, I was shocked to discover P&G's response was they will be launching a new child lock container for the Tide Pods by the summer.  There was no mention of changing the colorful pods to look less like candy and more like laundry detergent.  Why?  Because this colorful presentation is likely part of what is helping drive sales.
Certainly P&G has some good arguments on its side for not touching the pod design itself – parents need to be more responsible and 180 children is not enough to change something that is effective.  However, parents are a huge target audience for P&G and more consideration should be taken on the company's part to keep children safe from poisonous products.