Gone are the days where private label means low price but lacking in quality. For decades, store brands primarily focused on positioning themselves as better value, paying little mind to developing their own visual identities. In response to consumers' growing interest in healthier foods and greater transparency, retailers have started developing sophisticated flavors and packaging for their in-house brands. Rather than trying to mimic big-name brand staples, retailers are sampling trendier flavor profiles and expanding into new categories like prepared meals, snacks, and beverages, while still maintaining product affordability. Such examples include Shop Rite's Bowl & Basket, Target's Good & Gather, and Whole Foods' 365 Organic. Private label brands were already experiencing magnificent growth, but due to the COVID-19 pandemic, they have seen even more of an increase in market share growth. Supply shortages have led consumers to try private label brands, often with a positive reaction.
What is it, exactly, that's making these private label brands so alluring nowadays?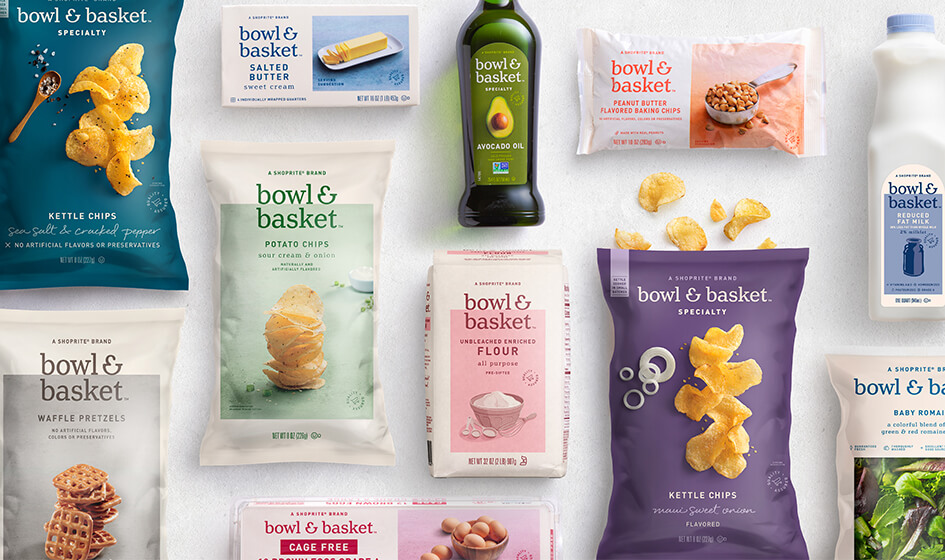 Bowl & Basket, by Shop Rite [Source: Pearlfisher]
Colors and Imagery
A mix of highly stylized photography and playful illustrations sit atop background colors that make an impact. Whether soft-hued, like Shop Rite's Bowl & Basket, or jewel-toned, like Target's Good & Gather, the packaging is sure to catch consumers' eyes. 365 by Whole Foods Market utilizes illustration, photography, and a combination of the two to draw in consumers. The real-food photography feels rich, modern, and sophisticated. This conveys freshness and quality. Spices are scattered purposefully, salt sprinkled artfully, making a beautiful composition for the product itself to shine. The illustrations are friendly yet refined. Even packaging material plays a part—Good & Gather utilizes a matte finish material, even for bags of tortilla chips. This choice feels ultra-luxurious when compared to traditional shiny chip bags. The fresh color palettes and alluring imagery emphasize the quality and uniqueness of each private label's products.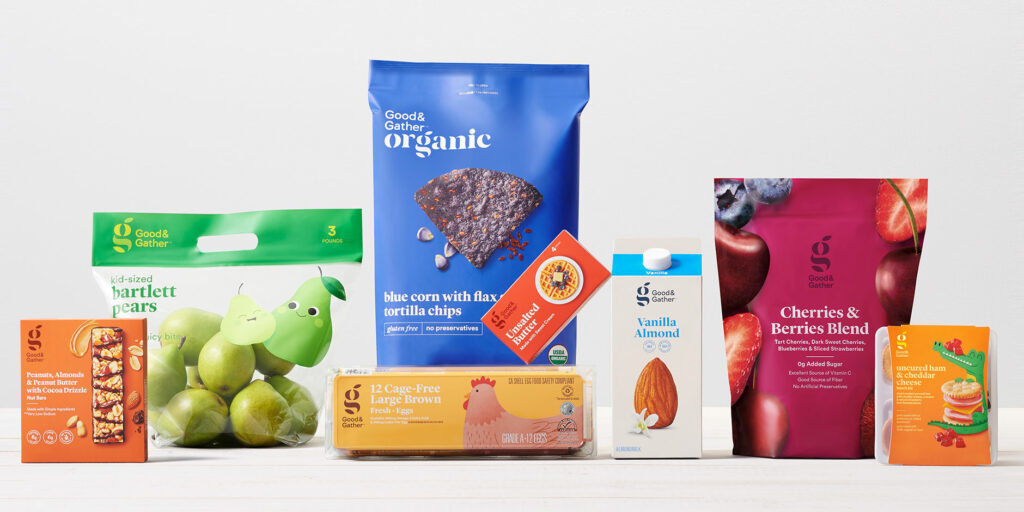 Good & Gather, by Target [Source: Target]
Typography
Companies are increasingly leaning towards funky serif fonts, stylistically reminiscent of the 1970s. Take the serif lowercase "g" in Target's Good & Gather. Its expressive curves are delightfully playful and its leaf-shaped ear and loop are a nod to the brand's commitment to nutritious, great-tasting food that consumers will feel good about feeding their families. These fonts are exuberant and delightfully retro. For many consumers, this nod to past decades offers a comforting retreat into familiarity. Nothing says comfort like a favorite meal, so it's the perfect choice. Copy set in modern sans-serifs perfectly accents the bold serif logos. The simple sans-serif fonts allow product information to be easily readable. Their simplicity also helps the logo letterforms shine.
The Bottom Line
In short, these private label brands are trying to package happiness. The packaging is bold yet inviting, sophisticated yet playful. The products are not overwhelming to the consumer's eye. Instead, they are intriguing. These brands invite consumers to discover a new favorite snack or meal.  Technology has allowed retailers to gain a true understanding of what consumers want, from flavors to fonts. Elevated branding usually means elevated cost, but this in this case elevated branding simply means satisfaction while spending less.