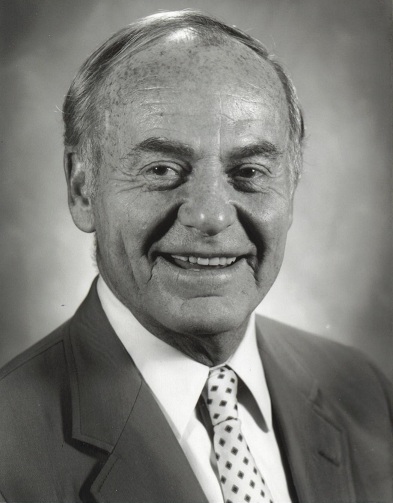 We know Sam Walton. We respect Jim Sinegal. We admire Sol Price. But there was another retail giant – a true pioneer – who is too often forgotten or overlooked in today's crowded marketplace: John F. Geisse. To know John Geisse is to love him.
Father of 10, dutiful husband to wife Mary, hardworking man, devoted citizen. That is John Geisse. Of course he also founded and launched the Target stores, the Venture chain and The Wholesale Club (which was sold in 1991 to his friend Sam Walton and became Sam's Club).
In as much as I helped write John's obituary, I could tell you a good portion of the story of his life, but I prefer to focus instead on a single chapter – the chapter I know best – The Wholesale Club years.
I first Met John Geisse and his son Tom when they visited Cleveland in 1982 to discuss the opening of their second membership warehouse club and their first unit in Ohio. They were looking for an agency to help them make connections and build awareness and generate traffic. But really, John was just looking for someone he could trust.
Somehow our paths crossed. I was only 26 at the time and John was barely 60, though he had more energy on his worst day than I had on my best. John Geisse was full of life and it showed in our first meeting. As he revealed to a group of us what the membership warehouse concept was all about – a new retail idea formulated by Sol Price on the west coast – we were already drooling at the opportunity to be involved on the ground floor of a business that was sure to succeed.
And it wasn't that Mr. Geisse was so convincing, though he was, it was that he was so passionate, so invested, so involved. He loved the very idea of what he was doing. Having opened his first unit in Carmel earlier that year, he was ready to explode his idea across the Midwest. And sure enough, over the course of the next eight to nine years, we worked our way through Ohio, Indiana, Michigan, Wisconsin and Illinois, opening more than 30 100,000-square-foot membership warehouses. In less than a decade, John Geisse had created a billion-dollar business.
And John was there every step of the way. Scouting locations. Meeting with civic and business leaders. Meeting with the media. Meeting with prospective business members. Meeting with the community. Preaching the gospel of The Wholesale Club. But nothing was more important to John Geisse than his customers. He was a showman and a businessman creating a nationally recognized and respected retail operation. Still, he never took his eye off the prize.
I recall one particular grand opening, which John Geisse always presided over, like a pastor leading his flock. Shortly after the speeches and the ribbon-cutting, the doors were opened and the curious flooded into the store. John was giving a tour and interview to a reporter of the daily newspaper when he spotted out of the corner of his eye a new member attempting to remove a 20-pound box of detergent from an overhead shelf. John cut off the interview in mid-sentence and ran to the aid of the customer, never even bothering to introduce himself as an inductee of the Discount Hall of Fame or the founder of this company.
In truth, John Geisse never really cared so much for the accolade as he did the pure fun of making someone smile.
Sam Walton once said of John Geisse,"I have never known anyone else that I respected more for many things, including integrity, morality and the way he cared for his associates."
John Geisse died at the age of 71 nearly two decades ago, shortly after selling his business to Sam Walton, his close and trusted friend. I think of John Geisse often. He was more than a great man, he was a good man.